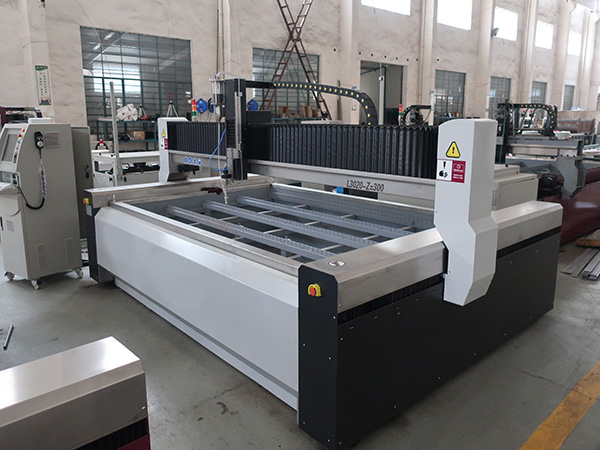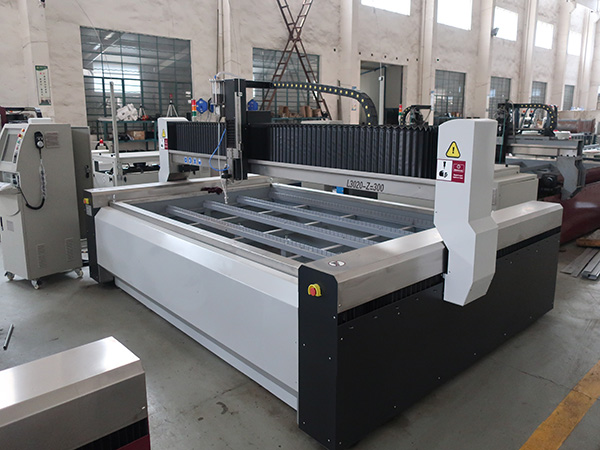 Nimi

erä
Parametri
Intensifier Pump

Malli
WMT3742Z
motor
SIEMENS
Method of Direction Regulation
Electronic direction regulation
Pressure Range
50-420MPA, continuous pressure is 330-380Mpa
Maximum Flow of Hydraulic

Pump

90 L/min
Maximum Discharge Capacity
3.7 L/min
Maximum Diameter of Gem

Suutin

0.33 mm
Power of Master Motor
37 KW
Power Source
380V/50HZ, also work at 220V/60HZ, 415V
Leikkuupöytä
X axis Characteristic
use strong 10MM steel, 3000MM cutting range. The cutting table width is 3200mm
Y axis Characteristic
Cast iron is used as the foundation base , 2000MM cutting range . The cutting table length is 3200mm.
Z axis Characteristic
Z axis double linear guide and four sliding block , 180MM, CAN DO 200MM
Control Accuracy
±0.01mm, cutting accuracy is

±0.1mm, reposition accuracy:

±0.02mm, max travelling speed:6000mm/min,

we have new technology that can make the travelling speed 20-30m/min.

linear guider
TAIWAN TBI BRAND
Table Ctructure
can be delivered by one 40'FCL container
Ajotie
Servo drive system
CNC system
Ncstudio ,Fagor
Servo moottori
SIEMENS motor
Leikkuupää
Casting structure and Concrete structure
Sealing Way
soft dustproof cloth on X,Y,Z axis,the sealing

result will be better,and there is a oil tank under the cutting table,the linear guider no need maintainence.

Loading Weight Water Tank
Wall thickness is 6mm,using fluorocarbon

coating, Can antirust at least 5 years.

CNC Controller
Ohjausmenetelmä
CNC
Display Size
19inch LCD
Model of Cutting Text
DXF
Model of Computer
Industrial Control Computer
Käyttöjärjestelmä
Windows 7
PLC
SIEMENS
Cutting Software Advantage
Auto save and transfer common parameter
Controller Displace
Can be fit to suitable place at own will
Automitic Abrasive

Syöttölaite

Founction
Sand storage and sand delivery
Operating
No need electrocnic control,sample operation
Capacity
200 kg for 8 -10hours
Pressure
0.3-0.6Mpa compresses gas pressure
Color
White

Deionization System

Water pressure
0.15Mpa~0.6Mpa
Water temperature
5°C~50°C
Environment temperature
5°C~50°C
Relative humidity
≤95%(25°C)
Water turbidity
<20FTU
Wireless Handle
Founction
Wireless controlling waterjet
Näyttö
Real- time display condition of X,Y,Z axis
Settings
Zero point, on/off valve set, X,Y,Z axis moving
Technology
Advanced technology
Advantage:
---
1.37KW SIEMENS motor
2.All electric components are Schneider brand
3.Can do special size and special design according to customer's demand
4.Free abrasive sand feeding system
5.We have most convenient automatic abrasive sand removing and recycling system for any brand water jet cutting machine
6.Imported intensifier pump
7.Use 8mm steel to make the cutting table stronger and keep the precision time for whole life
8.Soft cover for linear guider or gear and rack, can effectively prevent dust
9.Install an automatic oil tank for cutting table , no need maintenance of linear guider
10.Legitimate WINDOWS 7 system and install the Chinese newest water jet cutting system
11.TBI linear guider and ball screw
12.Variable servo pump can reduce the electricity cost
13.We have agents in America, Russia, South Africa, Ecuador,UK, Argentina, Chile.Mexico,Australia,Saudi Arabia,Malaysia.Vietnam
14.We can make machine moving speed to 10-50m/min which will improve your cutting efficiency
15.We are finding agent all over the world
1. What are the benefits of purchasing a vesisuihkuleikkuri comparing EDM, Laser, Plasma or Machine tool?
---
| | | | | | |
| --- | --- | --- | --- | --- | --- |
| | Waterjet | EDM | Laser | plasma | Machine tools |
| Cost and time efficient | Joo | Ei | Joo | Joo | Ei |
| High tolerance, precise cutting | Joo | Joo | Joo | Ei | Ei |
| No burned edges, no HAZ | Joo | Ei | Ei | Ei | Joo |
| Multi-head cutting | Joo | Ei | Joo | Ei | Joo |
| Steel is over 150mm thickness | Joo | Joo | Ei | Joo | Joo |
| No distortion or discoloration | Joo | Joo | Ei | Ei | Joo |
| Nesting yield | Joo | Joo | Joo | Ei | Ei |
| Shiny, mirror finish | Joo | Joo | Ei | Ei | Joo |
| Brittle,soft or hard material | Joo | Joo | Joo | Joo | Ei |
| Stainless steel, copper, brass or exotic material | Joo | Joo | Ei | Joo | Ei |
| No toxic fumes, deposits, or carbon buildup | Joo | Ei | Ei | Ei | Ei |
| Environmentally friendly | Joo | Ei | Joo | Joo | Ei |
2. What kind of material does your vesisuihkuleikkuri voi leikata?
There are plenty materials our water jet cutting machine can cut, such as stone, ceramic, quartz, glass, foam, plastic, rubber, copper, brass, aluminum, mild steel, pre-hardened steel, titanium, inconel and hastalloy
3. Mikä on sinun cnc vesisuihkuleikkurisuurin leikkauspaksuus?
Generally speaking, if cut steel the max thickness of our water jet cutting machine can be up to 240mm, but we suggest cut not more than 150MM for smooth cutting. now our Z axis distance is 170mm, we can do special for customers.
4. How we supply after-service?
Some countries we have after-service department, we will provide local service, if have no local service, we will arrange engineer for overseas installation and training. The installation and training time is generally 7-10 days. And we also can provide installation videos.
5. What's your delivery time?
Generally speaking is 30 days. if have stock, 15 days.
6. what is the cutting speed?
materiaali
Paksuus (mm)
Cutting Speed of 420MPa pump(mm/min)
Marmori
20

30

410

360

Graniitti
20

30

380

250

Glass Bridck
12
1100
Lasi
5

10

20

1610

725

420

Glue Chipped Glass
10
630
Sieni
50
6500
Vaahto
50
6500
Puu
10

50

1350

270

Teräs
2

4

6

8

10

15

20

60

800

570

520

360

260

150

60

26

laminaatit
10
2000
Alumiini
5
970
Kupari
5
460
Glass Fibre
Reinforced plastic
2
1650