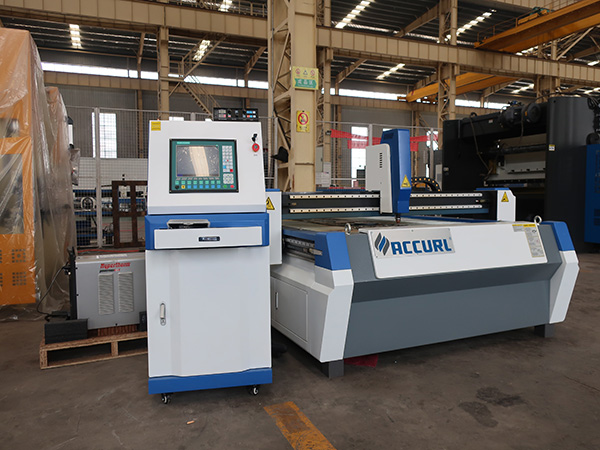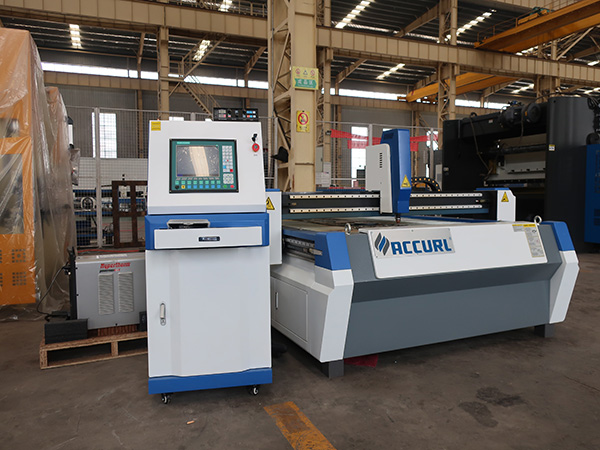 THE MAIN DISCRIPTION
---
ACCURL has been in machine industry field for about 10 years, we produce and sell all kinds of NC/CNC press brake, 3 or 4 roller rolling machine, plasmaleikkauskone, fire cutting machine, high quality shearing machine including swing beam and various rank guillotine shears, hydraulic press, lathe machine, milling machine etc. All machines are under CE certification and experienced in the market of European such as United Kingdom, Belgium, Romania, Hungary, Croatia and also all the other countries in the world.
We produce about 20 sets of plasmaleikkauskone monthly including gate type, table type, convenient suspending type. In this large production volume, therefore enable us to be a price-effective in manufactory cost level. We consist in financial flexible principle to collaborate with our partner for a better recovery cost after their investment.
We also provide client-oriented after-sale service with engineer available if needed. In any cases, our action is in rapid response, immediately action in both consultation or site guidance.
PÄÄHENKILÖ
---
1. Korkea vakaus ja kertaluonteinen leikkausmuoto.
2. Ota käyttöön uusi huoltovapaa tekniikka, joka ei tue voitelua, ilman pölyä
3. Käytä Etelä-Korean Samsungin teollisuuden tason pienitehoista ydintä alle 1500 W: n virrankulutuksen hallintaan ympäristönsuojelun ja energiansäästön kannalta
4. Koneessa käytetään HONGYUDA-sarjan valokaarijännitteen automaattista korkeuden säätölaitetta, jotta voidaan varmistaa etu tai huoltovapaa, korkean tarkkuuden korkeuden säätö ja myös tuotteen luotettavuus. Koneessa on POWERMAX 105 -plasmaleikkauselektroniikka, hyvä leikkuuteho, pitkä käyttöikä kulutusosissa ja materiaaleissa estämään elektrodin leikkaussuuttimen vaihtamisen huolet.
5. Asiakaskohtaisesti räätälöityjen laitteiden palvelu, esimerkiksi vaihtoehto täysaskelmoottorityypille tai yhdistelmäkäyttökoneelle. Ja voi myös valita yhden tulipalon, yhden plasman tai yhdistelmän tulipalon ja plasmaleikkauksen kanssa jne.
6. Valinnainen langattoman kauko-ohjaustoiminnon avulla, joka hallitsee helposti hätätilanteita, kun käyttäjä on kaukana koneesta, voi ohjata käynnistystä, pysähtymistä, nousua, alaspäin, eteenpäin tai taaksepäin 100 metrin sisällä.
Vakiokomponentit
---
1. Kaikki pitkittäissuunnassa poikittainen voimansiirto ovat erittäin tarkkoja vaihdelaatikoita (luokan 7 tarkkuus). Sekä pitkittäisissä että poikittaisissa linjaohjainkiskot tuodaan Taiwanista, Kiinasta takaamaan liikkumisen vakaus, korkea tarkkuus, kestävä käyttö ja hyvä ulkonäkö.
2. Vähennysventtiili on planeettavaihteen vähennysventtiili tarkkuuden saavuttamiseksi liikkeessä ja samalla tasapainossa.
3. Taajuusmuuttajajärjestelmä on tuotu Japanista peräisin oleva AC-servomoottori, joka takaa tasaisen liikkumisen, laajemman nopeudensiirron, lyhyen kiihdytysajan.
AC-servoasema on AJANKOHTAISEN JANPAN PANASONIC AC -SARJON SERVO-MOOTTORI
4. Use USA HYPERTHERM company MIRCO EDGE cnc control system, 17 inch color display screen, dynamic graphic display, automatic tracking, DETAILS as below.
5. Through the JAPAN imported original Panasonic servo motor, the magnet steel will be more durable, demagnetization will not happen because of the heating of the MOTOR.
6. Use AR voltage height level adjustment system to protect cutting torch ensuring the long life of the consumables.
SUMMARIZE
---
The CNC system of F2300 uses ARM and DSP motor control IC to implement cutting control, and the system is widely applied to oxygen gas cutting and plasma cutting processing industry. The system is designed portably to be installed. The system is easy to be operated and the worker can use the menu and the graphical hints to operate it. All the key buttons are designed in ergonomic considerations to be used conveniently. The front USB port can import and export files conveniently. The system interface includes many languages such as Chinese simplified, English, Russian, French, Japanese and can be used in many countries.
BASIC PARAMETERS/HARDWARE CONFIGURATION
---
· MCU:ARM9
· Number of axis motion:Two axes motion interpolation (can be extended to three axes)
· Max code lines:150,000 lines
· Single cutting code size: 4MB
· File memory space::Electronic bulk memory chip, 512MB
· User file memory space:256MB
· Controlling accuracy:±0.001mm (millimeter)
· Coordinate range:± 99999.99mm
· Max pulse frequency:250KHz;Max motion speed:25m/sec.
· Time resolving capability:10ms
· System power:DC +24V
· System working condition:Temperature :0℃ - +55℃;Relative Humidity: 0-95%.
· Interface:USB
· Frame:Overall metal structure, electromagnetic radiation resistant, anti interference, anti-static
· Special configuration:Touch pad, 100m wireless remote controller and wire control box(optional for full range of F2000 series)
· Support oxygen gas, plasma, powder and simulation demo mode.
· Keyboard: PCB film keyboard,PS/2 interface, OMRON button
CHARACTERISTICS OF SYSTEM
---
· 45 categories different graphics (including grid pattern), chip part and hole part are alternative.
· Graphics have some operations such as Proportion, Rotate, Mirror.
· Graphics can be arrayed in matrix, interaction, stacked modes
· According to plate thickness, the cutting speed is automatically restricted by a speed limit in the corner, effectively preventing over burn.
· metric system/ imperia system switch
· Steel plate can be adjusted according to any steel side.
· Coordinate system can be customized to support the two-dimensional coordinates of all eight kinds.
· All input and output port type and the number can be customized (normally open or normally closed)
· system and parameters backup, update system online
· Chinese / English (including Japanese, Russian, French and other languages )file system and menu can be switched only by one key.
· select row and column manually.
· support edge cutting and offset cutting.
· Automatically memorize the working situation and the last cutting point when power off.
· Dynamic/static illustration of the process, graphics zoom in / out, dynamically tracking cut-off point under zooming state.
· support artgrave, TYPEIII, PM2000 cam software
· set up different administration authority to and the corresponding password to safeguard the interests of managers.